Shopfront allows you to easily apply a price for Lotto prizes and sales. Each lotto ticket printed from your Lotto terminal has a barcode that contains the product ID and price.
Enable Barcode Templates
Navigate to Menu > Setup > General
Scroll down to the Use barcode templates toggle under General
Toggle this setting on to enable barcode templates
Create Barcode Templates
Navigate to Menu > Setup
Select Barcode Templates
To create a template click on the + New button at the top of the screen
Name the template (e.g. Lotto)

Barcode Template Setup
Follow the steps below to apply the Lotto Template code.
Select the pencil icon shown in the Template column
Enter the following code into the Template field 2874XX$$$CC?
Select Done

Lotto Product Setup
Once the lotto barcodes are enabled and created, it's time to set up the Lotto products to sell and redeem prizes by linking the barcode templates.
Depending on how detailed you would like your sales report to be, products can be set up individually for each Lotto product sale and prize, eg, Lucky Lotteries Mega Jackpot, Oz Lotto, Lotteries Prize Payment or you can set up one product named Lotto Sales and another name Lotto Prizes and include each Lotto product ID as shown in the images below.
Navigate to Menu > Stock Management > Products
Either Create a New Normal Product or modify an existing product by searching for it and clicking Edit to the right of the description
Name the product and enter a Case Quantity of 1
Enable the Use Barcode Templates toggle
Scroll down to the Barcodes Section
For Lotto sales enter the barcode Quantity with a positive 1 and a negative value of -1 for the prizes Lotto products
Add the corresponding Product ID (see list below titled Product ID List) for product codes (these codes are supplied by Lotto to distinguish the type of Lotto sale)
Select the lotto barcode template from the Template drop down menu (this will be the name of your Lotto template, there should only be one Lotto option to choose from)
Finalise by clicking Save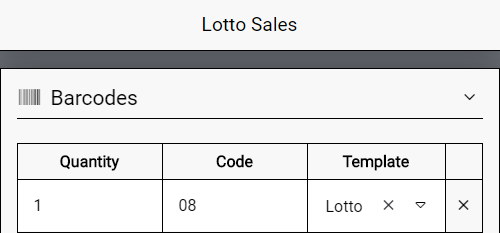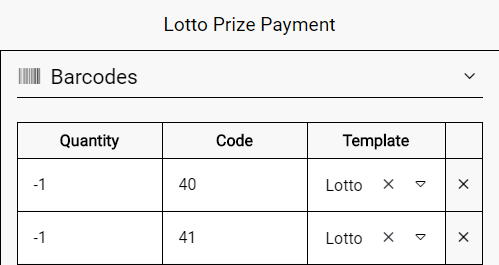 Product ID List
Enter the corresponding ID Code for the lotto product you wish to create.
| | |
| --- | --- |
| ID Code | Product |
| 00 | Syndicates Shares |
| 60 | Syndicates Shares (Paid with the Pay In-store Functionality) |
| 01 | Saturday Gold Lotto (GC), TattsLotto (Tatts), Saturday X Lotto (SAL), Saturday Lotto (NSWL) |
| 61 | Saturday Gold Lotto (GC), TattsLotto (Tatts), Saturday X Lotto (SAL), Saturday Lotto (NSWL) (Paid with the Pay In-store Functionality) |
| 02 | Oz Lotto |
| 62 | Oz Lotto (Paid with the Pay In-store Functionality) |
| 04 | Super 66 (GC, Tatts & SAL Only) |
| 64 | Super 66 (GC, Tatts & SAL Only) (Paid with the Pay In-store Functionality) |
| 06 | Monday & Wednesday Lotto (Tatts & NSWL) Monday & Wednesday Gold Lotto (GC) Monday & Wednesday X Lotto ( SAL) |
| 66 | Monday & Wednesday Lotto (Tatts & NSWL) Monday & Wednesday Gold Lotto (GC) Monday & Wednesday X Lotto ( SAL) (Paid with the Pay In-store Functionality) |
| 07 | Lucky Lotteries Super Jackpot |
| 67 | Lucky Lotteries Super Jackpot (Paid with the Pay In-store Functionality) |
| 08 | Lucky Lotteries Mega Jackpot |
| 68 | Lucky Lotteries Mega Jackpot (Paid with the Pay In-store Functionality) |
| 09 | Lotto Strike (NSWL Only) |
| 69 | Lotto Strike (NSWL Only) (Paid with the Pay In-store Functionality) |
| 11 | Keno (SAL Only) |
| 71 | Keno (SAL Only) (Paid with the Pay In-store Functionality) |
| 12 | Keno Coin Toss (SAL Only) |
| 71 | Keno Coin Toss (SAL Only) (Paid with the Pay In-store Functionality) |
| 13 | Set For Life |
| 73 | Set For Life (Paid with the Pay In-store Functionality) |
| 52 | Powerball |
| 63 | Powerball (Paid with the Pay In-store Functionality) |
| 20 | Card Activation (SAL Only) |
| 21 | Card Renewal (SAL Only) |
| 22 | Membership Reimbursements (Excluding SAL) (Negative value) |
| 30 | Instant Scratch –Its Sales |
| 40 | Lotteries Prize Payment |
| 41 | Instant Scratch-Its Prize Payment |