Shopfront features customisable receipt templates to provide your own look and feel to your receipts. To modify or create a receipt template complete the following:
Select the Menu icon
Select Setup
Select Receipts
Select +New to create a new template or click Edit on the template you wish to modify
If you are creating a new template please type a name using the text field.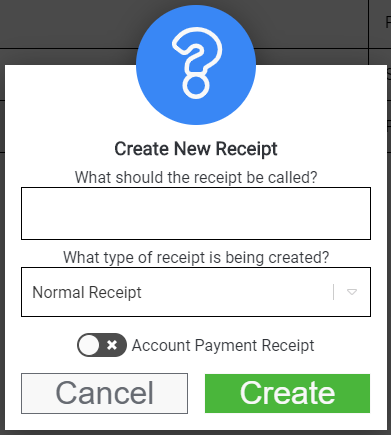 You have the choice of different types of receipts to create:
Normal Receipt - print/view sales receipts from the sell screen
Generic/Text only Receipts - print/view sales receipts from the sell screen. Only for older receipt printers
A4 Receipts - print/view customer receipts in A4 format
Email Receipts - email/view customer receipts and invoices
Account Payment Receipts - toggle on for any of the above formats as account payment receipts
You can choose to create your receipt from our preset default template or from a blank page.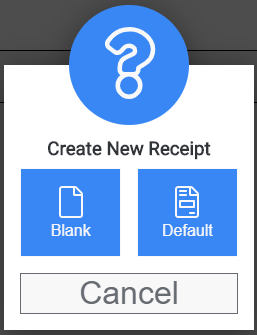 To modify / add components please:
Click on the component field you wish to modify or add
To add please click and drag components to the desired location on the template
Modification options specific to components are available under the Settings tab
List of Components and Settings:
Please note, available components and settings may vary depending on the receipt type selected.
Heading

Set a text for a Completed Sale by typing into the text box
Set a text for a Parked Sale by typing into the text box
Modify colours, font, alignment
Modify the padding
Add and modify a border

Text

Add and modify text with all common text processing tools
Modify the Background Colour
Modify the padding
Add and modify a border

Image

Add or change the logo via the Media Centre
Set Image dimensions if other than default
Modify the Background Colour
Add and modify a border

Barcode

No modifications available

Spacer

Set the Height of the space to add between components

Columns

Set the width percentage of the columns
Add and modify a border

Products

Change the names of values to be displayed
Enable values to be displayed
Rearrange order of values to be displayed
Enable a line to display discount reasons
Enable a line to display a product note
Modify colours, font, alignment
Modify the padding
Add and modify a border

Tax

Enable values to be displayed
Rearrange order of values to be displayed
Modify colours, font, alignment
Add and modify a border

Tax Indicator

Set a symbol for the Indicator by typing into the text box
Set a text to be displayed as explanation with the indicator by typing into the text box
Set the Tax type by selecting from the dropdown list
Modify colours, font, alignment
Add and modify a border

Payments

Enable values to be displayed
Rearrange order of values to be displayed
Modify colours, font, alignment
Add and modify a border

Loyalty

Change the names of values to be displayed
Enable values to be displayed
Rearrange order of values to be displayed
Modify colours, font, alignment
Add and modify a border

Account

Change the names of values to be displayed
Enable values to be displayed
Rearrange order of values to be displayed
Modify colours, font, alignment
Add and modify a border

Total

Change the names of values to be displayed
Enable values to be displayed
Rearrange order of values to be displayed
Modify colours, font, alignment
Add and modify a border

External Receipt

Add and modify a border
Change the alignment of the receipt