This article only applies to stores that are part of an IBA banner group (The Bottle-O, Cellarbrations and Porters).
The integration requires a user with the following permissions enabled or a user with no role.
Modify Integrations (to integrate, after integration can be removed)
Create Webhooks
View Register Closures
See Cost
If the user is deleted in the future, the integration steps will need to be completed again with a new user.
To enable the integration, please follow the steps below:
Go to Menu > Setup > Integrations
Scroll down to the Independent Brands Australia - Developed by Shopfront integration.
Select Integrate
Select Authorise the integrations.
Once you return to the integrations page, the Settings icon should be visible, please contact Shopfront or ibascan@almliquor.com.au for the required credentials supplied by IBA.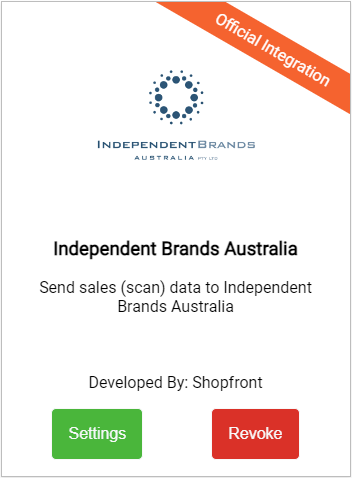 Note: Once integrated, scan data will be sent to IBA after closing each register. Click the link for more information on How to Perform a Register Closure. For information on How to Resend Scan Data to IBA click the link.