Future Prices allow you to schedule a chosen time for price changes to become active. These changes can be enabled either by using the utilities to set a future price for select products or by scheduling a duration for all price changes made in the products page to become active.
Create a Future Price from the Future Prices Page
This is recommended if you only need to set a select amount of price changes as future prices and would still like standard price changes to apply immediately.
Navigate to Menu > Utilities > Future Prices
Click + New
Search for products by typing into the text box
Click the Scheduled Time field to open the calendar
Select or type the date this price change should apply
Enter an amount into the Quantity

This will activate the current Product Price and Cost for the entered quantity to be displayed
Enter the future price into the Price field
Optionally select a Price Set this should apply to
To finalise click Add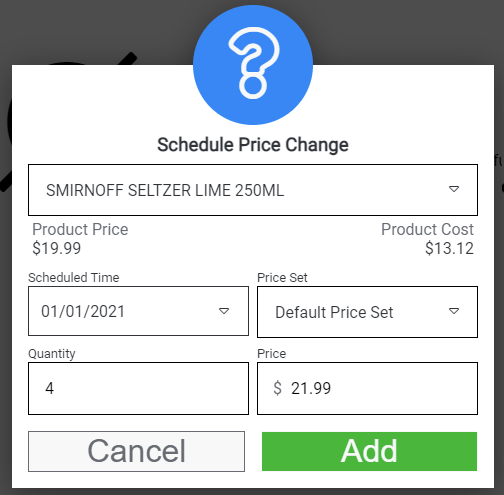 Note; For more details and a guide on how to utilise Price Sets please see the linked article.
Activate Future Prices for all Price Changes made on Products Page
Navigate to Menu > Setup > General
Select Company find Hours until price changes become active and enter your chosen amount of hours
Once future prices have been activated, any price changes made from the products page will be visible by Navigating to Menu > Utilities > Future Prices, prices will automatically be applied once the set amount of hours has been reached. You can also override the scheduled time from the Future Prices page for individual products by selecting Apply or activate all scheduled price changes by selecting Apply All Prices.

Navigate Future Prices Index
The future prices index page functions similar to other index pages within Shopfront. This page lists all future prices that have been created and not applied yet. This list can be filtered, lines can be applied immediately or deleted.
| | |
| --- | --- |
| Select Category | Filter future prices by select categories, type to search. |
| Select Start Date | Filter by a start date. Click to access the calendar and choose or type a date. |
| Select End Date | Limit the filter results with an end date. Click to access the calendar and choose or type a date. |
| Filer | Once one of the above filter options is applied the list will be filtered automatically. |
| Apply All Prices | Immediately apply all future prices currently on the filtered list. The entered price change date will be disregarded. |
| Apply | Immediately apply selected future prices. The entered price change date will be disregarded. |