Forcing a synchronisation should not be required but in some cases the local google chrome database might be out of sync with your data in the cloud. This might be due to cache cleaners or third party applications.
To ensure that you have the most recent data on your device please follow the steps below;
1. Click on the Online button with the globe symbol on the upper right hand corner of your shopfront screen.

2. On the following pop-up please select Force Synchronisation to apply latest changes and settings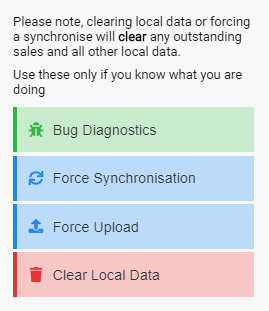 3. You might see a toast at the top of your screen Performing a large synchronisation. While this bar is visible some data might not be accessible (e.g. the full product list). This process may take up to a couple of minutes.