To disable the print dialog box when printing a receipt, you will need to setup kiosk printing within Google Chrome. If you plan on printing from other web pages other than Shopfront then this setting is not advised.
Open Google Chrome
Select ⋮ (Menu)
Select Print
The printer dialogue box will appear. Please ensure that the default printer displayed is your receipt printer.

Close your Google Chrome browser
Right click your Google Chrome or Shopfront icon found on your desktop and select properties
Remove all text after "chrome.exe" in the target text box
After "chrome.exe" type --kiosk-printing followed by your Shopfront web address


For example, chrome.exe --kiosk-printing store.onshopfront.com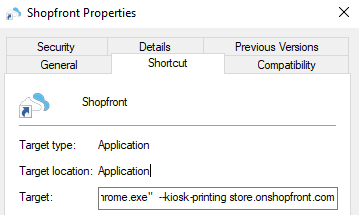 Note: Please ensure that the latest version of chrome is installed. Refer to Do I have the latest version of Chrome installed?